Big Bold Bronzing Bag
FIND YOUR LOCAL BOOTS IRELAND STOCKIST


This amazing set includes 6 full sized products and an amazing large cosmetic bag!
Our Super Spritz & Big Bold Bronzer launched earlier this year and people just can't get enough!
An exclusive tan buster mitt for when you just want a fresh start.
Worth over €85!
Once they're gone they're gone, don't miss out!
FIND YOUR LOCAL BOOTS IRELAND STOCKIST:
Liffey Valley Shopping Centre
Blanchardstown 223 Centre
The Pavillion Shopping Centre, Swords
Omni Shopping Centre
Jervis Shopping Centre
St Stephens Green Shopping Centre
Bloomsfields Shopping Centre, Dun Laoghaire
The Park Retail Park, Carrickmines
Nutgrove Shopping Centre
Grafton Street
Dundrum Town Centre
The Square Shopping Centre, Tallaght
Charlestown Shopping Centre, Finglas
Frascati Shopping Centre Blackrock
Dawson Street Dublin
Half Moon Street
Blackpool Retail park
Mahon Point
Douglas Court Shopping Centre
Wilton Shopping centre
The Crescent Centre
Childers Road Retail Park
Williams Street
Knocknacarra Retail park
Galway Shop Street
Galway Shop Centre
Whitewater Shopping Centre Newbridge
Carton Retail Park Maynooth
Monread Shopping Centre Naas
Golden Island Shopping Centre Athlone
Harbour Place Shopping Centre Mullingar
Marshes Shopping Centre Dundalk
Navan Shopping Centre
Laurence Shopping Centre Drogheda
Main Street Georges Court Shopping Centre
Thurles Shopping Centre
Gladstone Street
Deer Park Killarney
Central Plaza Abbey Court Tralee
MacDonagh Shopping Centre
High Street
Carrick on Shannon Retail Park
Johnston Court Shopping Centre
Ballymahon Street Longford
- New Super Spritz Dark - one week tan!
- Best Seller Smart Mousse - colour control tan!
- Foolproof Express - easy to use instant tan!
- New Big Bold Bronzer - with all day stay!
- Smooth Applicator Glove - only good times & no tan-lines!
- New Exfoliating Mitt - for a fresh start!
- Super Size cosmetic bag - perfect for storing all your tan!
PREP - TAN - GO!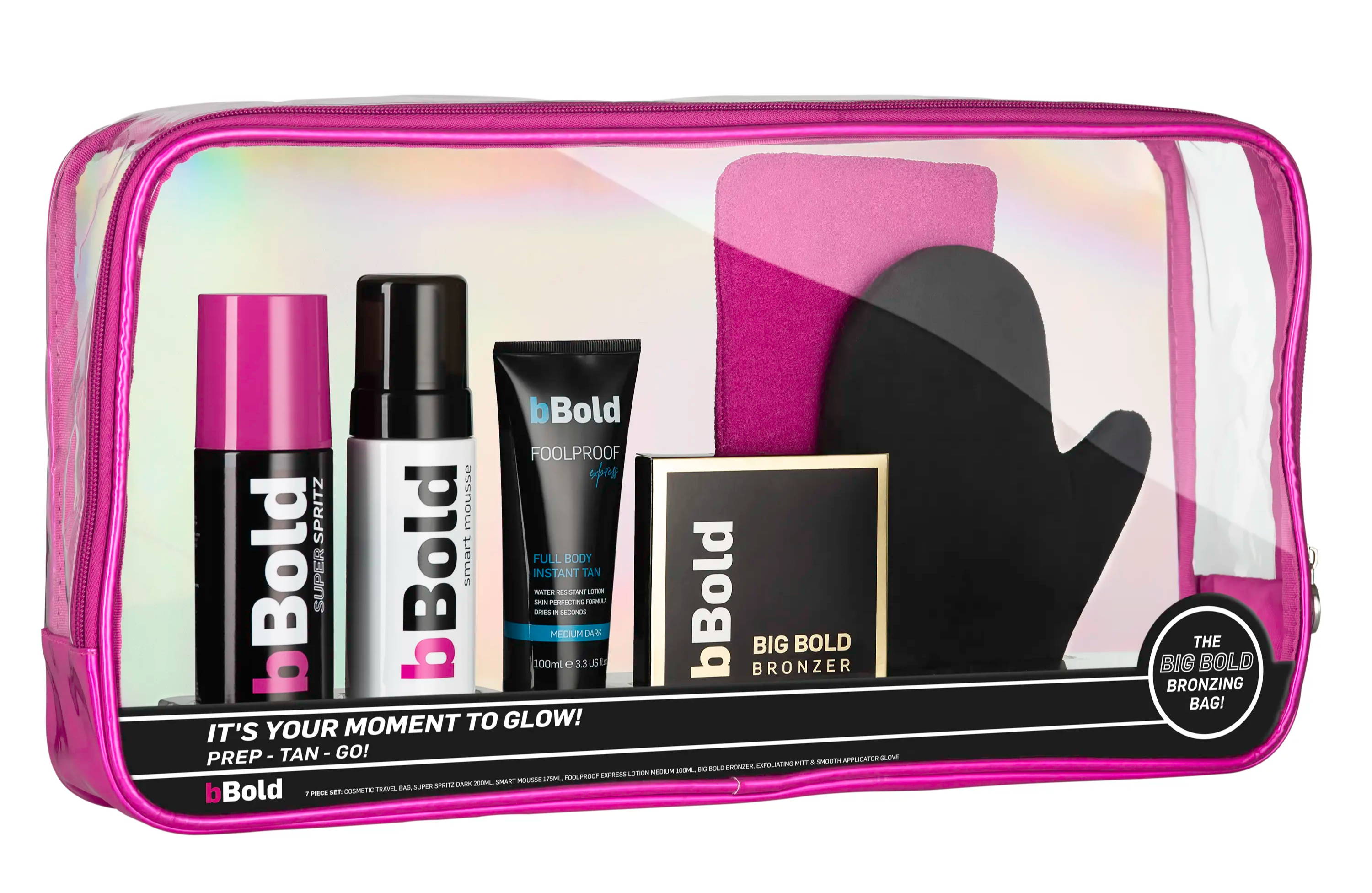 THE PRODUCTS EVERYONE LOVES!
This is my new fave tan!
It was so so easy to apply and once it developed the colour was just stunning!
I didn't even notice it wearing off,
with other tans I have used in the past my skin would go so patchy,
but not with this one. I just love it!
THE PRODUCTS EVERYONE LOVES!
Been using bbold tan for about 4 years now!
I can't fault it!
Always gives a flawless natural looking tan!
THE PRODUCTS EVERYONE LOVES!
Absolutely love this bronzer, so silky smooth and so buildable.
Perfect for day to day, and can be built up to wear for a night out!
Lasts all day and looks just as good 12/13 hours later.
Can't see me going back to another bronzer!
THE PRODUCTS EVERYONE LOVES!
So easy to apply and loved the colour.
A real life saver for last minute plans!
Love it!
THE PRODUCTS EVERYONE LOVES!
Absolutely loving this glove.
I'm always complaining about my applicator mitts but this glove lets the tan just glide on you skin.
I was left with a beautiful even tan.